Elegant Balloons for Click & Collect
Prepare for a Stunning & Memorable event
Trust me to take care of balloons for your perfect event. I can customise balloons to the specific event and each design is bespoke to your day.  I guarantee your guests will be raving about the event afterwards, and you will have loads of photo opportunities in front of the balloon displays.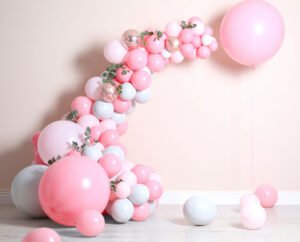 For the more corporate client, I can customize the balloons to match your brand and incorporate your logo on the balloon display.  Helping to further strengthening your brand message.
Select your base design from Balloon Hoop, Balloon Hoop with Vinyl Design, & Balloon in a Box.
Include your customisations in the spaces provided. We can reach out to you to ensure perfection.